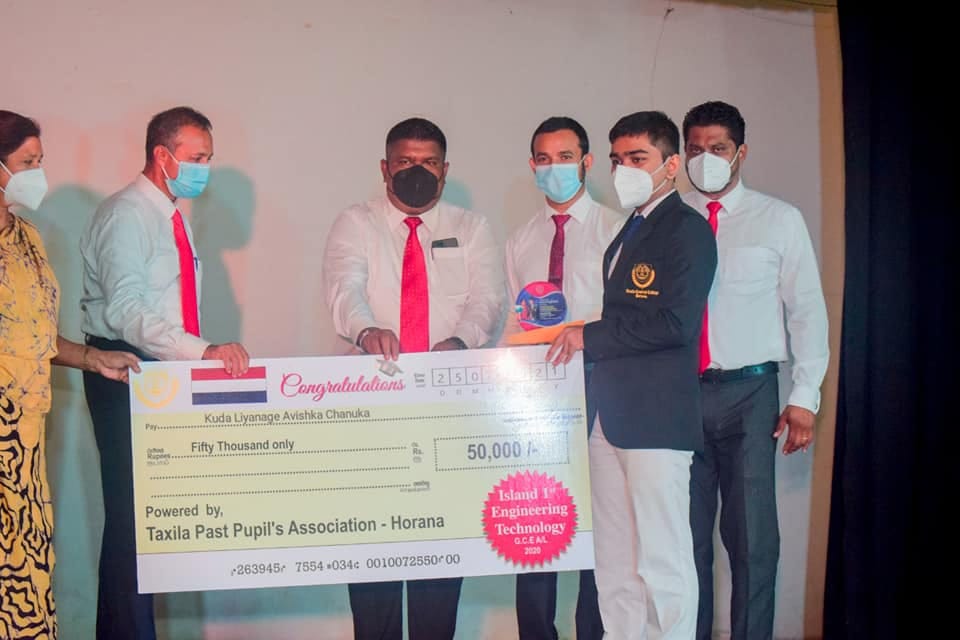 The Felicitation Ceremony Was Conducted for the Taxilians Among the All-island Highest Achievers Who Faced the Gce (a/l) Examinations -2020.
Adding glory to Taxila Central College, Two students of the college secured the All Island 1st place in the Engineering Technology stream and the Bio System Technology stream at the GCE (Advanced Level) Examinations-2020. It is considered a remarkable Academic achievement in the college history.   
In recognition of this Excellent Achievement, a Felicitation Ceremony was conducted by the Past Pupils Association on 25th of July 2021 in the College Auditorium.
The Chief Guest who graced this occasion was Prof. (Mr.) Kapila Perera – Secretary of The Ministry of Education. The Principal, Vice Principal, Teachers, Students, Past Pupils and Invitees were present at this ceremony.
According to the examination results & the rankings published by the Examinations Department of the Ministry of Education, seven Taxila students were among the All Island Top 10 rank holders.  
The Taxila 92' Batch, yet again going along with the Annual Laptop Award Program, awarded Lap Tops to the Top ranked students with the view to assist their higher education. The rankers were granted Financial Awards and Trophies by the Taxila Past Pupils Association.
The Teachers who had devoted themselves to pave the success for these students, and The Principal for her dedicated, tireless effort to achieve these goals, were also morally recognized in this event.